iOS App Development – Do You Need To Invest in iPhone/iPad Apps?
iLooking at the statistics from Statista, "As of summer 2016, more than 140 billion apps were downloaded from the App Store" and "As of January 2017, the Apple App Store had 2.2 million mobile apps available for download." Wow, these are really big figures and indicate that Apple' fans sure love the iOS App Development in India.
Most iPhone or iPad users spend a significant amount of their time using a variety of iOS apps. Take a look at the below statistics, again from Statista, which show on what kinds of apps the users spend their time after:
Games – 25.04%
Business – 9.88%
Education – 8.47%
Lifestyle – 8.36%
Entertainment – 6.12%
Utilities – 4.88%
Travel – 3.93%
Book – 3.04%
Health and Fitness – 2.98%
Others – 27%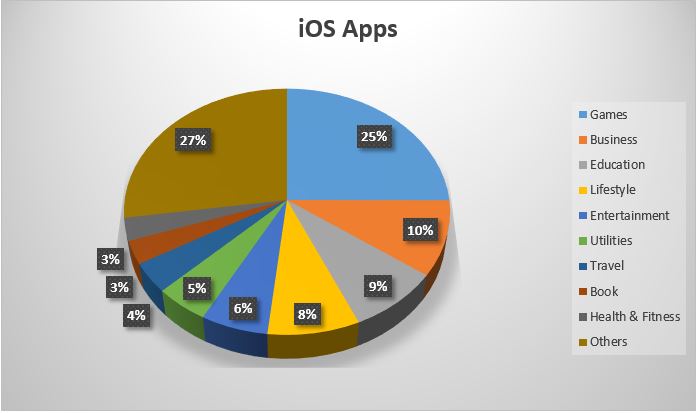 Now, looking at the above stats, what do you gather? Probably that you need to invest in iOS app – right? It is certainly beneficial, especially if you have a business, to have an iOS app.
These days, most people prefer using native mobile apps instead of using their desktop or laptop computers to perform, well, a lot of things. Ranging from searching information and watching videos to booking tickets and much more, smartphone users favor native mobile apps. For that reason, you need to have a nice native iOS app. Get in touch with a reputable iOS app development company (iPad / iPhone app development company) in India that can help you realize your app idea, complement your business with a prolific iOS app or help you with legacy iOS app development.
What Kind of Apps can an iOS App Development Company Help Develop?
A reputable iOS app development company in India, like Concept Infoway, that is experienced and competent with iPhone app development and iPad app development can help build almost all kinds of apps. Here are some of the categories for which, we can help build beautiful apps:
Business Apps
Healthcare Apps
Education Apps
Shopping / Ecommerce Apps
Game Apps
Entertainment Apps
Social Networking Apps
Travel Apps
Navigation Apps
To discover more about our experience and expertise, visit our iPhone/iPad iOS App Development page https://www.conceptinfoway.net/mobile-app-development-company-in-india/iphone-ipad-app-development-company-in-india/.
If you already have an app idea and want to learn how much it will cost to realize that idea, then contact us at sales@conceptinfoway.com for a free analysis and quote.
Recent News Post

Extensive iOS App Development Services in India from Experts at Concept Infoway
When it comes to iPhone app development, iPad app development, or Apple Watch app development, iOS App Development,...
View More

Apple App Developer News: Mass OS and SDK updates Released by Apple for Developers
If you are an Apple App Developer then you probably be aware that last week on January 25th,...
View More