Education App Development from Experienced Mobile App Developers in India
There is a substantial market for education apps, as more and more students are shifting toward M-learning from E-Learning and conventional learning methods. It would certainly be fruitful to invest in education app development.
Concept Infoway is a leading mobile application development company in India that provides quality education app development services to clients across the UK, UK, Australia, and Europe. With 16+ years of solid experience in mobile application development and an experience team of mobile app developers in India, which is proficient in iPhone/iPad app development, Android app development, Universal Windows Platform app development, and Cross-Platform app development, we create exceptional mobile app solutions that bring value to our clients.
When it comes to education app development, we are skilled enough to help you with apps like Exam preps, vocabulary improvement, study-aids, educational games, and language learning. We build intuitive education apps that provide interactive learning experience to students on a specific skill or topic.
Why Go For Education App Development?
Over the past few years, there has been a radical shift toward M-learning (mobile learning), thanks to the easily availability of smartphones and tablet devices. M-learning enables quick and efficient learning experience to all those who are always on the go or those who cannot access their laptop or computer or visit their classroom due to some circumstances. The statistics from AppBrain shows that, as of February 20, 2017, there are as many as 216,151 total Education Apps for Android. It is the top category in the Google Play, which has maximum number of applications (refer below image).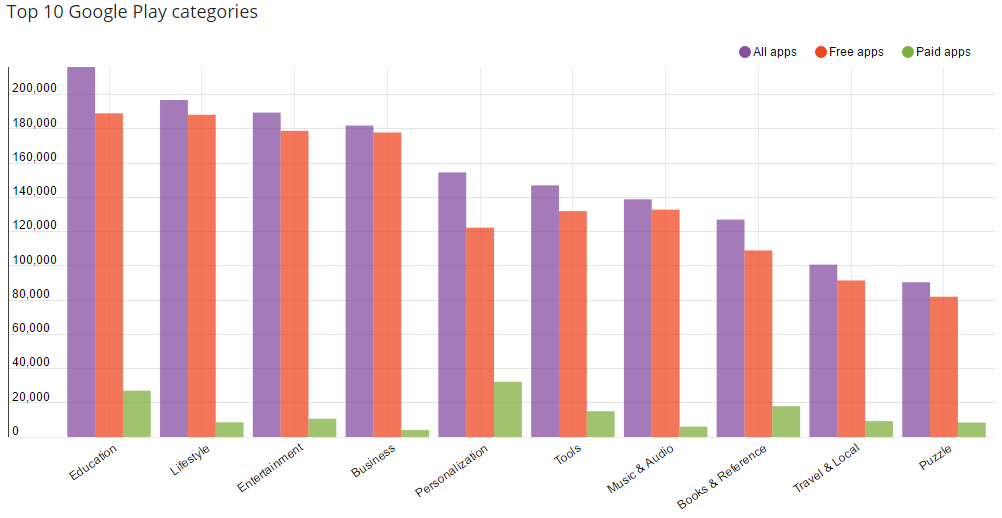 Source: AppBrain
Considering how popular the Education app category is, it is certainly worth it to go for education app development.
Why Concept Infoway for Education App Development?
There are many good reasons why you should team up with Concept Infoway and hire expert mobile app developers for education app development. The iPhone app developers and Android app developers here at Concept Infoway assure you with a prolific education app that looks beautiful as well as offers exceptional learning experience.
Our Vast Experience as a Mobile App Development Company: We are in business for over 16 years, and this duration reflects our expertise and proficiency in custom application development. We have designed and developed numerous applications on different mobile platforms for different types of industries, and have received amazing accolades from our clients worldwide. With our vast experience, we have built not only innovative education apps, but grocery apps, shopping apps, dating apps, hotel booking apps, cab booking apps, and more.
Competent Mobile App Developers for Education App Development: Concept Infoway has some of the brilliant Cross-Platform app developers, Android app developers and iPhone app developers in India, who are very experienced and clever. These mobile app developers have in-depth knowledge of the latest mobile platforms and technologies. Utilizing their experience and skill, our mobile app developers in India will help you with brilliant mobile apps that meet your every expectation.
Convenient Hiring Options: Concept Infoway is a leading offshore mobile app development company in India from where you can conveniently hire mobile app developers on a full-time basis, part-time basis, or an hourly basis. Hiring a mobile app developer or a team of mobile app developers is pretty straightforward at Concept Infoway:
Contact us and choose your model
We will analyze your requirement
We will send you the best proposal
We will sign a work contract
And finally, we will begin the work on your requirement
If you are looking for the best mobile app development company in India for quality education app development, you can certainly rely on Concept Infoway. Not only education app development, but you can contact us for grocery app development, shopping app development, dating app development, hotel booking app development, cab booking app development, and other custom mobile app development. We have extensive experience and expertise in iPhone app development, Windows app development, Android app development, as well as in wearable app development (Apple Watch app development and Android Wear app development); hence, you can rest assured to get amazing app solutions for whichever platform you choose.
To learn more about our mobile application development expertise, visit our mobile app development web page.
If you already have an education app development requirement, you can directly contact us at sales@conceptinfoway.com for a free analysis and price quote.
Recent News Post

5 Reasons for iPhone App Development for Business
Organizations, companies and businesses are always looking for superior market presence, along with effective business practices that can...
View More

Apple Watch App Development – The Big Challenge
It is not too long now for the launch of Apple Watch to the consumers--the release date is...
View More