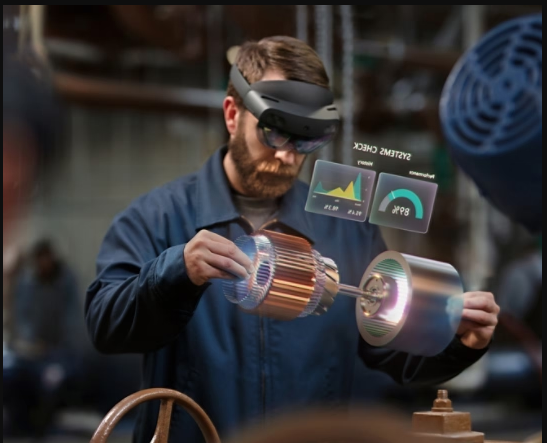 Microsoft HoloLens in Action with Minecraft at E3 2015
Microsoft HoloLens
Have you heard about Microsoft HoloLens? If you've missed this year E3 2015, then you've missed one of the most innovative products of this decade, i.e., Microsoft HoloLens. Microsoft HoloLens is one of a kind Augmented Reality device, yet unlike Oculus Rift VR and Sony's Project Morpheus, it creates Augmented Reality in the real world (of course can be viewed only by the wearer).
Checkout the video above, displaying the power of Microsoft's HoloLens during the play of the popular video game, Minecraft.
The Hololens is Microsoft's take on augmented reality, which they call "mixed reality". Using multiple sensors, advanced optics, and holographic processing that melds seamlessly with its environment, These holograms can be used to display information, blend with the real world, or even simulate a virtual world.
How does it work?
The Hololens has a plethora of optical sensors, with two on each side for peripheral "environment understanding" sensing, a main downward facing depth camera to pick up hand motions, and specialized speakers that simulate sound from anywhere in the room. The Hololens also has several microphones, an HD camera, an ambient light sensor, and Microsoft's custom "Holographic Processing Unit" that they claim has more processing power than the average laptop. All this comes together to sense the spatial orientation of the unit in the room, track walls and objects in the room, and blend holograms into the environment.
What are the implications for higher education?
The Hololens is an excellent way to show students the potential of augmented reality. From playing Jenga to display the physics of the holographic processing unit to an alien game that shows the room analysis software, students can have fun, become more comfortable using the technology, and get a better grasp of the current limitations. Besides that, augmented reality is awesome for creation and innovation. Designs can be easily modeled and prototyped, ideas can be incorporated into real world objects, and users can work with digital design in ways they never could before.
Recent News Post
Magento Website Development – For Effective Online Store Solutions
Selling your products online could be easy if you have the right online store solution. Get in touch...
View More
Why ASP.NET Development? An Enterprise Overview
Based on Microsoft's Active Server Pages (ASP) technology and .Net framework, asp.net is a web application development framework....
View More