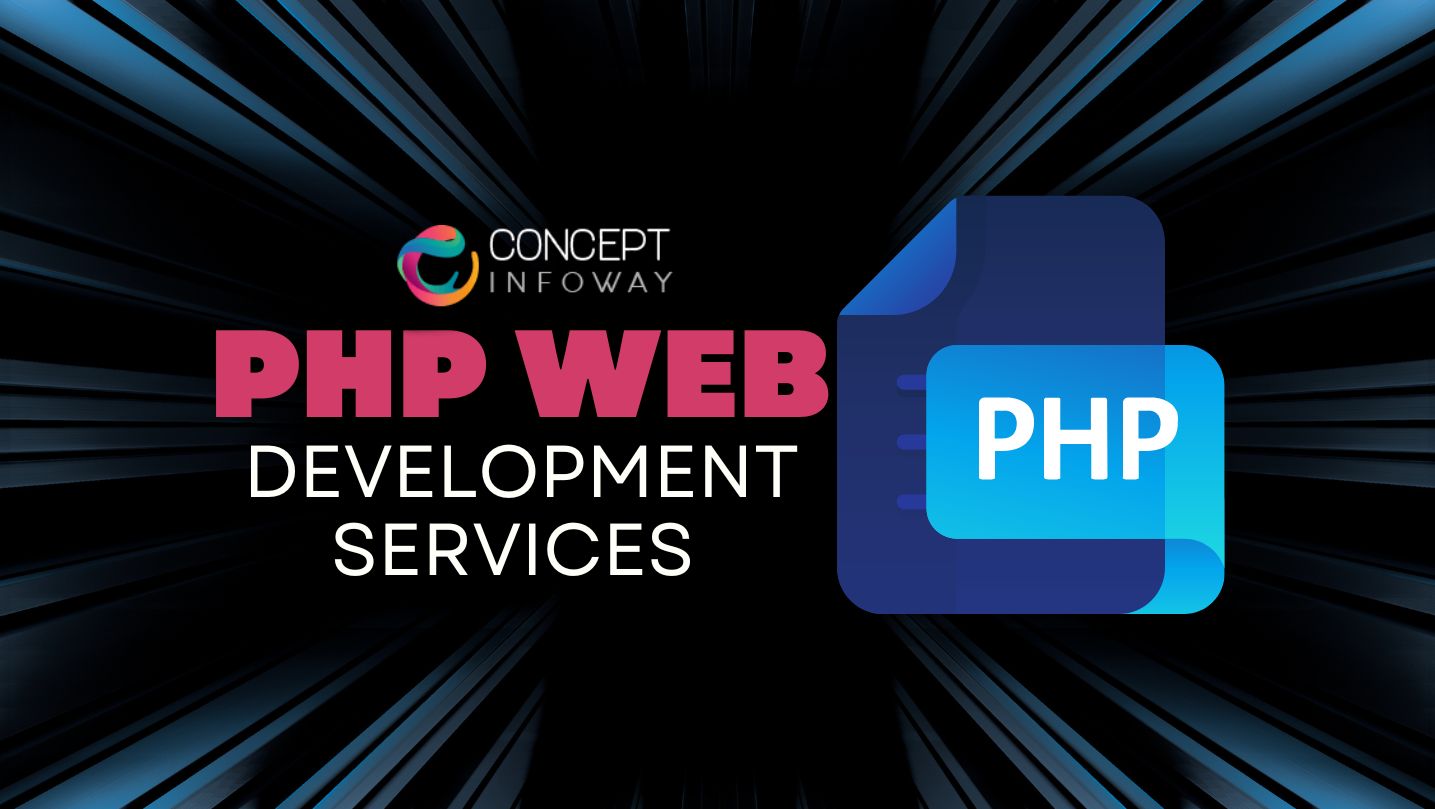 PHP Web Development Services: Unlocking the Power of Dynamic Websites
In the ever-evolving world of web development, PHP stands tall as one of the most powerful and widely used programming languages. Its versatility, scalability, and extensive community support make it an ideal choice for building dynamic websites. In this blog, we will explore the realm of PHP web development services and shed light on the expertise offered by Concept Infoway, a leading PHP development company in India.
Understanding PHP Web Development
What is PHP?
PHP, which stands for Hypertext Preprocessor, is a server-side scripting language designed for web development. It seamlessly integrates with HTML, making it easy to embed dynamic elements into web pages. PHP is known for its simplicity, flexibility, and compatibility across various platforms.
Benefits of using PHP for web development
Easy to learn and use: PHP has a gentle learning curve, making it accessible for both beginners and experienced developers.
Rapid development: PHP's extensive libraries, frameworks, and tools allow for faster development cycles and reduced time-to-market.
Cross-platform compatibility: PHP runs on major operating systems and supports all popular web servers, ensuring compatibility across different environments.
Database integration: PHP has excellent database support, making it ideal for building database-driven websites and applications.
Scalability: PHP's modular architecture and support for caching mechanisms enable the development of scalable and high-performing web applications.
PHP frameworks and their advantages
PHP frameworks, such as Laravel, Symfony, and Codeigniter, provide a structured approach to web development and offer several advantages, including:
Simplified code organization and reusability
Increased development speed through built-in functionalities and libraries
Enhanced security measures and protection against common vulnerabilities
Community support and extensive documentation for seamless development experience
PHP Web Development Services Offered by Concept Infoway
Introduction to Concept Infoway as a PHP development company in India
Concept Infoway is a reputable PHP development company based in India, known for its expertise in delivering top-notch web solutions. With a team of skilled PHP developers and a focus on innovation, they offer a wide range of services to cater to diverse client needs.
Services provided by Concept Infoway:
Custom PHP web application development Concept Infoway specializes in developing custom PHP web applications tailored to specific business requirements. From simple websites to complex enterprise-grade solutions, their expertise ensures robust and scalable applications.
PHP-based CMS development with their proficiency in popular CMS platforms like WordPress and Drupal, Concept Infoway crafts dynamic and user-friendly content management systems that empower clients to manage their website's content efficiently.
E-commerce website development using PHP Concept Infoway excels in building secure and feature-rich e-commerce websites powered by PHP. They leverage frameworks like Magento and WooCommerce to create seamless online shopping experiences.
PHP-based enterprise application development for businesses in need of sophisticated enterprise solutions, Concept Infoway leverages PHP's power to build scalable and customized applications that streamline processes and enhance productivity.
API development and integration Concept Infoway's PHP developers have expertise in creating and integrating APIs, enabling seamless communication between different software systems and third-party services.
PHP migration and upgradation services for businesses seeking to modernize their existing PHP applications or migrate from outdated versions, Concept Infoway offers smooth migration and upgrade services, ensuring minimal disruptions.
Case studies showcasing successful PHP web development projects
Concept Infoway has an impressive portfolio of successful PHP web development projects. Through case studies, they demonstrate their expertise in delivering high-quality solutions across various industries, including healthcare, e-commerce, finance, and more.
Advantages of Choosing Concept Infoway as Your PHP Development Partner
Expertise and experience in PHP development
With years of experience in PHP development, Concept Infoway possesses in-depth knowledge of best practices, emerging trends, and efficient coding techniques to create robust and scalable web solutions.
Dedicated team of skilled PHP developers
Concept Infoway boasts a team of talented PHP developers who are adept at leveraging PHP's capabilities to deliver customized solutions that align with clients' business objectives.
Quality assurance and testing processes
Concept Infoway follows a rigorous quality assurance and testing process to ensure the delivery of bug-free and reliable applications. Their commitment to quality guarantees optimal performance and user satisfaction.
Client testimonials and success stories
Client testimonials and success stories speak volumes about a company's credibility and expertise. Concept Infoway has a track record of satisfied clients, attesting to their professionalism, timely delivery, and exceptional customer service.
How to Get Started with Concept Infoway's PHP Web Development Services
Contacting Concept Infoway
To begin your PHP web development journey with Concept Infoway, reach out to them via their website or contact details provided on their official website.
Initial project consultation and requirements gathering
Concept Infoway initiates the process by conducting a thorough consultation to understand your project requirements, goals, and desired outcomes. They work closely with you to develop a comprehensive project plan.
Project planning and timeline estimation
Once the requirements are gathered, Concept Infoway's team formulates a project plan that includes a detailed timeline, milestones, and deliverables. This ensures transparency and keeps all stakeholders informed throughout the development process.
Development, testing, and deployment process
Concept Infoway's experienced PHP developers execute the development process, adhering to the project plan. Regular communication, periodic testing, and quality checks are conducted to ensure a seamless development journey. Upon completion, the website/application is deployed, ensuring a smooth transition to the live environment.
Frequently Asked Questions about PHP Web Development
What is the cost of PHP web development services?
The cost of PHP web development services varies based on project complexity, scope, and specific requirements. Concept Infoway provides tailored solutions and offers transparent pricing models to suit clients' budgets.
How long does it take to develop a PHP website?
The development timeline depends on the project's scale, complexity, and client requirements. Concept Infoway provides realistic timelines after a thorough analysis of the project scope.
Can PHP websites be easily maintained and updated?
Yes, PHP websites are highly maintainable and updatable. PHP's modular structure allows developers to make changes or add new features without disrupting the overall functionality.
Is it possible to integrate third-party APIs into PHP applications?
Absolutely. PHP offers excellent support for integrating third-party APIs, allowing seamless communication and integration with various external services and platforms.
What security measures are taken for PHP web development?
Concept Infoway prioritizes website security and implements robust security measures, including data encryption, secure authentication, input validation, and protection against common vulnerabilities such as SQL injection and cross-site scripting (XSS).
Hire PHP Developers
79% of websites, including major world brands such as Facebook, Wikipedia, Slack, and Yahoo list PHP in their technology stacks. Since 2000, Concept Infoway has been helping businesses to leverage the full capacity of PHP on the way to their success. Hire PHP developers from Concept Infoway to create interactive and scalable web solutions ranging from simple web pages to complex enterprise level applications. We have the knowledge and tech expertise to implement your ideas.
PHP web development services have revolutionized the digital landscape, empowering businesses to create dynamic and scalable websites and applications. Concept Infoway, with its expertise in PHP development, is a trusted partner in bringing your web development aspirations to life. With a wide range of services, a skilled team of developers, and a commitment to excellence, Concept Infoway ensures the delivery of reliable, secure, and high-performing PHP solutions that cater to your unique business needs. Contact Concept Infoway today to unlock the power of PHP for your web development projects. You can also share your requirements with us on Facebook and Instagram.
Recent News Post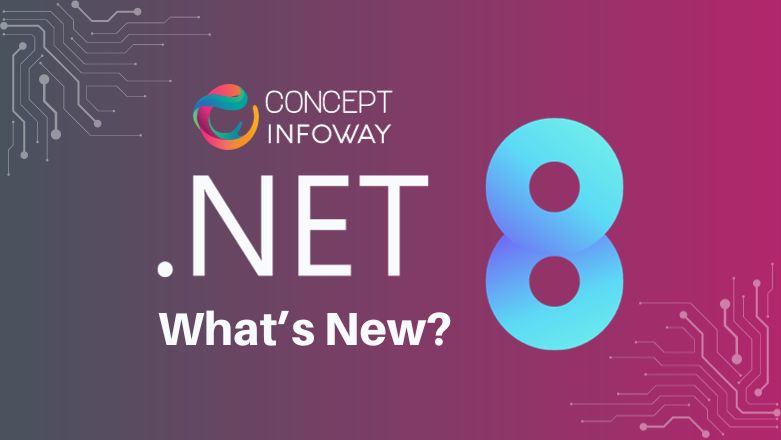 .NET 8: What's New? (Features & Release Date)
In the ever-evolving world of software development, staying up-to-date with the latest technologies and updates is crucial. For...
View More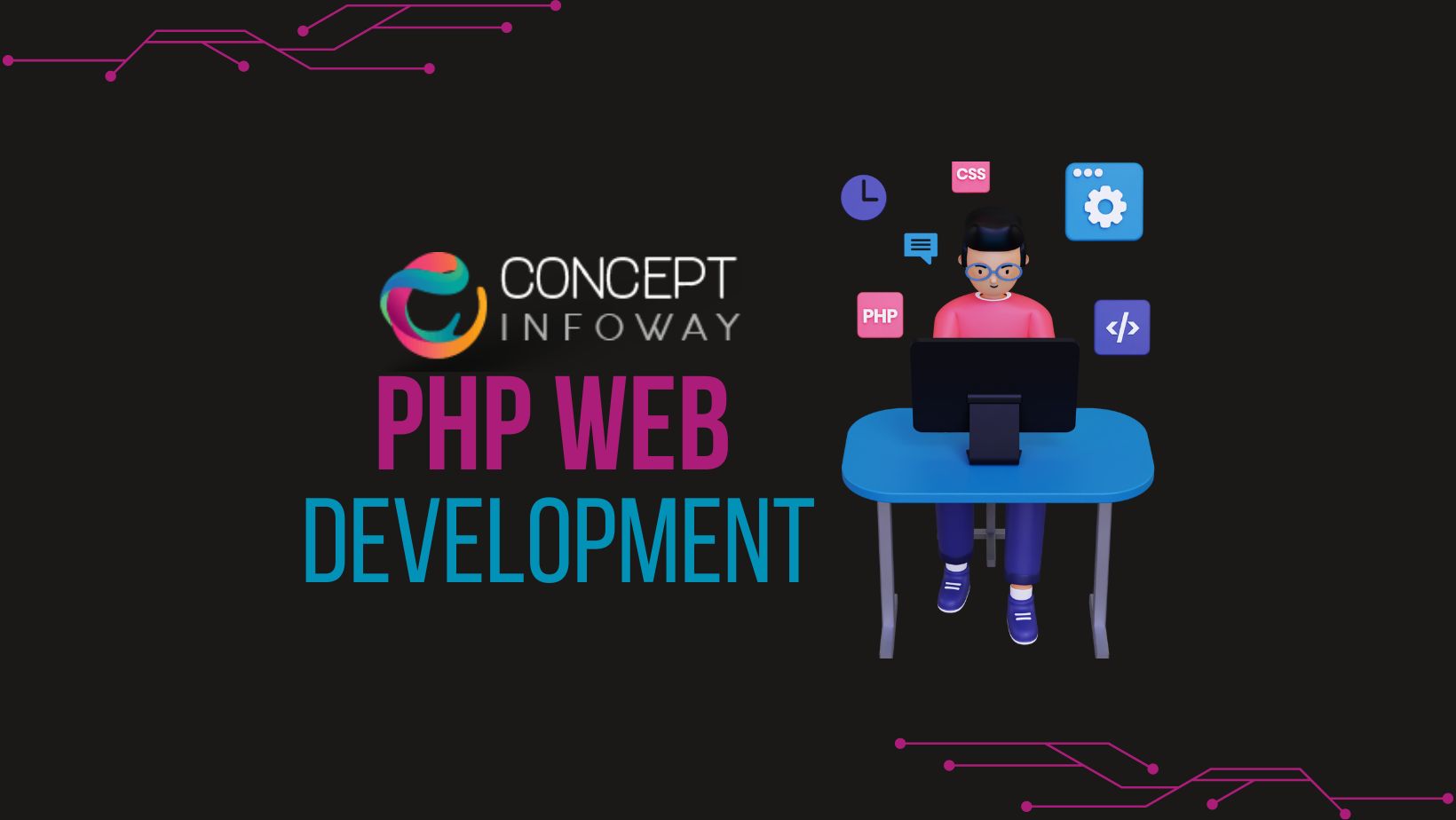 PHP Web development Company in India – Concept Infoway
PHP web development plays a crucial role in creating dynamic and interactive websites and applications. When it comes...
View More