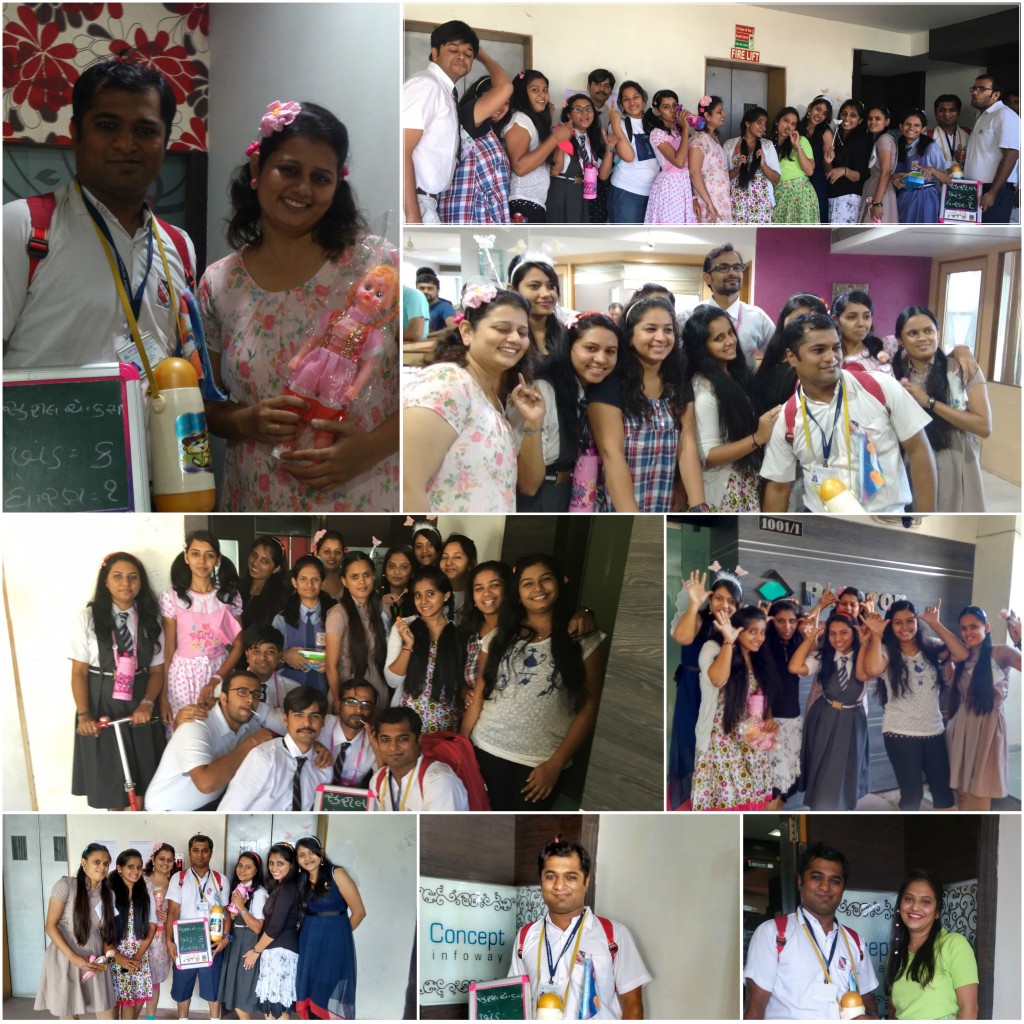 Pre Diwali Celebrations
Past few days were quite amazing here at Concept Infoway. For the upcoming Festival of Light, the Diwali, we celebrate these past few days with different themes. The fun days all started on the 5th of November.
On the 5th itself, we had a "Back to School / Kids' Days" theme. Most of the Conceptians on this day were dressed in a school uniform. Well, some of them also dressed like a kid!
 On November 6th, we had a "Bollywood / Character" theme. As the name suggests, Conceptians were supposed to dress up like a Bollywood or TV serial character. Of course, some even dressed up in a unique retro style. They were supposed to do the acting as well on this day. And so, they did do the acting on this day!
Pre Diwali Celebrations
November 7th was a "Sports" cum "Lunch" day. We had planned a football match between the 4 teams. For that reason, the company booked a beautiful venue with a FIFA certified "Turf"! The matches were absolutely wonderful between the 4 teams, and each player had shown the good sportsmanship. After a couple of hours, we had an exquisite lunch. But before the lunch, yes, there was a prize distribution for the winners and runner-ups of the football match. The prizes, of course, were a beautiful cup for the winners and equally good medals for the runner-ups.
On the day of "Dhanteras" November 9th, we all Conceptians celebrated the day worshipping "Goddess Laxmi" in a traditional attire. The girls were in Sarees and boys were in Kurtas for the day. After the devotion, we all got ready to sign-off for the Diwali vacation. Took the back-ups of our work, bid adieu to the clients, and tied up a few nitty-gritty ends.
Of course, there is still one more day to go; the festive wishes among us, the Conceptians. Well, some wonderful gifts are planned by the company for everyone!!! Looking forward to it.
All right then, they were really fun days, these past few days. Time for me to sign off. And, on behalf of all at Concept Infoway…
Have a Happy Diwali & Prosperous New Year!
Also read :