Book a Free Consultation
and we will get back to you asap.
UI/UX Design Services in India
In the ever-evolving digital landscape, user experience (UX) and user interface (UI) design have become paramount for businesses aiming to create exceptional digital products. In India, where technology is thriving, numerous companies offer UI/UX design services. Among them, Concept Infoway stands out as a leading UI/UX design company, combining creativity, expertise, and a deep understanding of user behavior to deliver captivating and intuitive experiences.
Whether you are looking to revamp your existing digital presence or embark on a new design journey, Concept Infoway's UI/UX design services in India are tailored to meet your specific needs, helping you create impactful and user-centric digital solutions that drive engagement, satisfaction, and business success. We are the best UI/UX design company in India.
When it comes to hiring a skilled UI/UX designer in India, Concept Infoway stands out as a top choice. With their expertise in creating exceptional user experiences, Concept Infoway's team of talented designers brings a perfect blend of creativity and functionality to every project. By understanding the unique needs and preferences of your target audience, they craft intuitive and visually stunning interfaces that enhance user engagement and drive business growth.
Whether it's designing for web or mobile platforms, Concept Infoway's UI/UX designers in India offer the expertise and innovation needed to create captivating digital experiences that leave a lasting impression. You can also share your requirements with us on Facebook and Instagram.
Categories: UX Design, Web Design
Tags: Offshore Software Development, UI UX Designer, UI/UX Design, UI/UX Designers, UX UI Designer, UX/UI Design, UX/UI Designers, Website Design
Our UI/UX Design Process in India
Our meticulous and collaborative approach combines creativity, research, and user-centered design principles. We strive to create intuitive and visually appealing interfaces that provide seamless user experiences, ensuring optimal engagement and satisfaction.
Research and Analysis

Conducting comprehensive research and analysis to gain valuable insights into user preferences, market trends, and competitors, ensuring informed decision-making throughout the design process.

Expert UX Designing

Leveraging expertise in user experience (UX) design to create intuitive and user-friendly interfaces that seamlessly guide users through the app, enhancing overall satisfaction and engagement.

Mapping Customer Journey

Mapping out the customer journey to understand user interactions, pain points, and opportunities for improvement, ensuring a seamless and delightful user experience at every touchpoint.

UI and Design Interaction

Implementing visually appealing and aesthetically pleasing user interface (UI) designs that not only captivate users but also align with your brand identity, creating a memorable and cohesive digital experience.

Responsive Design

Prioritizing mobile users by adopting a mobile-first approach and incorporating responsive design principles, ensuring optimal functionality and aesthetics across various screen sizes and devices.

Rapid Prototyping

Utilizing rapid prototyping techniques to quickly iterate and refine designs, allowing for early validation of concepts, gathering feedback, and ensuring the final product meets user expectations.

Customer Experience

Providing expert consulting services to optimize customer experiences, offering strategic insights and recommendations based on industry best practices and user-centric approaches.

User Testing

Conducting thorough user testing sessions to gather feedback, identify usability issues, and refine the design iteratively, resulting in a highly user-centric and intuitive mobile app that meets the needs and preferences of the target audience.

Looking For Skilled UI/UX Designers Nearby?
Unlock the Power of User-Centric Design – Contact Us Now to Hire Skilled UI/UX Designers Who Will Elevate Your Brand. Concept Infoway's team of talented designers brings a perfect blend of creativity and functionality to every project.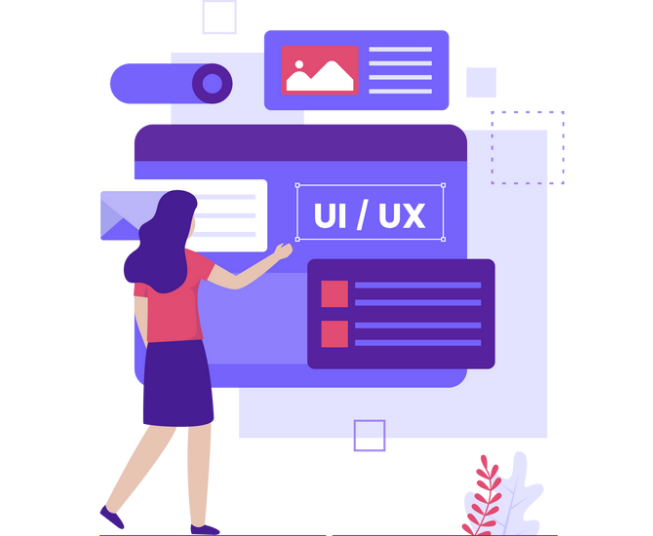 UI/UX Design Solution in India
Looking for top-notch UI/UX design solutions in India? Look no further! Concept Infoway offers:
Expertise in creating intuitive and visually appealing user interfaces.
Streamlined user experiences that enhance engagement and drive business growth.
Customized solutions tailored to your specific industry and target audience.
Collaboration with clients to understand their unique needs and deliver exceptional designs.
Cutting-edge tools and techniques that ensure the latest trends and best practices are incorporated.
Cutting-Edge Tools We Use for UI/UX Design
Our team of UI/UX designers uses the most advanced and powerful tools to create the most refined solutions. Below are some of the tools we use in our day-to-day life to create magic.
Figma

A powerful cloud-based design tool that enables real-time collaboration, making it ideal for remote teams. With features like design versioning, prototyping, and developer handoff, Figma provides a comprehensive platform for UI/UX design.

Adobe Photoshop

A powerful and versatile image editing software used by professionals worldwide. It offers an extensive range of tools and features, allowing users to enhance, retouch, and create stunning visual content with precision and creativity.

Adobe XD

An all-in-one UX/UI design and prototyping tool that streamlines the design process, allowing designers to create interactive prototypes, user flows, and wireframes while seamlessly integrating with other Adobe Creative Cloud apps

Adobe Illustrator

A powerful vector graphics editor used for creating and editing illustrations, logos, icons, typography, and complex artwork. It offers a wide range of tools, effects, and precision controls for professional design work.

Adobe InDesign

A powerful desktop publishing software used by designers to create stunning layouts for print and digital media, offering precise control over typography, graphics, and page elements.

InVision

A widely used prototyping and collaboration tool that allows designers to transform static designs into interactive prototypes, conduct user testing, and gather feedback from stakeholders for iterative design improvements.

Marvel

A user-friendly prototyping tool that lets designers create interactive mockups and wireframes quickly. With built-in user testing and collaboration features, Marvel facilitates seamless feedback gathering and project collaboration.

Sketch

A popular vector-based design tool with a robust feature set, enabling designers to create high-fidelity interfaces, interactive prototypes, and design components for seamless collaboration.
Hire Our Top UI/UX Designers
Frequently Asked Questions - FAQs
Concept Infoway has been providing UI/UX design services for over 22 years. With a team of skilled designers and developers, they have successfully completed numerous projects for clients across diverse industries.
Concept Infoway serves clients from various industries, including but not limited to e-commerce, healthcare, finance, education, entertainment, and technology. They have experience working with both startups and established businesses.
Yes, Concept Infoway has the expertise and resources to handle large-scale UI/UX design projects. They have successfully completed projects of different scales, from small startups to enterprise-level applications.
Concept Infoway follows a rigorous quality assurance process for their UI/UX design work. They emphasize understanding client requirements, conducting thorough research, creating well-defined user personas, wireframing and prototyping, and conducting usability testing to ensure the final design meets the highest quality standards.
Yes, Concept Infoway stays up-to-date with the latest design trends and technologies. Their team of designers continuously explores new tools, techniques, and emerging design trends to deliver innovative and modern UI/UX designs.
Yes, Concept Infoway offers UI/UX redesign services to enhance the usability and user experience of existing applications. They analyze the current design, identify areas for improvement, and propose effective solutions to optimize the user journey and interface.
The timeline for completing a UI/UX design project depends on various factors, such as project complexity, scope, and client requirements. Concept Infoway provides a project timeline after thoroughly understanding the project's details and goals.
Yes, Concept Infoway offers ongoing support after completing the UI/UX design project. They provide assistance with implementation, testing, and any necessary revisions or updates to ensure a seamless user experience.
You can contact Concept Infoway by filling out the contact us form. They have a dedicated contact page where you can fill out a form with your project details, or you can reach out to them directly via phone or email provided on their website.