mHealth App Development
mHealth apps, also known as healthcare apps, medical apps and fitness apps, are quickly becoming popular among the medical practitioners and patients all across the globe. Such mobile applications focus on personalized patient-centered care. They empower patients by providing them relevant information easily right into their palm.
If you are in the medical profession, it is worth considering going for mHealth app development (healthcare app development, medical app development or fitness app development) and partner with a reputable mobile app development company, like Concept Infoway.
Concept Infoway is an expert mobile app development company in India and provides quality mHealth app development services to clients in Australia, Europe, the UK, and the US. With 17 years of experience in mobile application development and a team of skilled mobile app developers in India, which is proficient with Windows app development, Cross-Platform app development, Android app development, and iPad/iPhone app development, we build innovative mobile apps that really work for our clients.
When it comes to mHealth app development, our app developers create exceptional solutions that enable efficient delivery of healthcare services through a range of mobile devices. We develop mHealth apps that are easy-to-understand and easy-to-use.
Why Consider mHealth App Development?
mHealth apps popularity and their usage are quickly rising not only in the USA, but in the emerging markets as well. As per mhealthshare, the home for mobile health app information, the global revenue for mHealth apps by the year 2020 would reach $49.12 billion.
With the swiftly rising popularity and usage as well as substantial projected revenue, it is certainly a worthy investment in mHealth app development. Besides, with a good mHealth app, you will be able to serve your patients better.
Why Choose us for App Development?
There are several good reasons why considering Concept Infoway for mhealth app development can be your best decision. We have some of the most skilled and experienced mobile application developers in India who can help you make great health apps, medical apps, or fitness apps, which are beautiful and intuitive, as well as offer great functionality and performance.
Our Experience: Concept Infoway is one of the leading mobile app development companies in India that has a massive 17+ years of experience in designing and building apps for Windows, iOS, and Android platforms. Over all these years, we have delivered numerous mobile app solutions for different kinds of businesses, and have received great compliments from them. With our rich experience and skills, we have developed not only mHealth apps, but taxi/cab booking apps, shopping apps, food/restaurant apps, grocery apps, educational apps, and dating apps among others.
Our Expertise: We have some of the top Android and iPhone app developers in India, who are vastly experienced and very competent in mobile application development. Our team of mobile app developers has extensive knowledge of the latest mobile technologies. Using their experience and skills, our mobile app developers in India will help you design and create remarkable apps that will surpass your expectations.
Flexible Pricing Options: When it comes to mobile app development, whether it is mHealth app development, shopping app development or any other custom app development, Concept Infoway offers unmatched flexible pricing options that allow you to save up to 50% on development costs. You can choose the fixed pricing model, hourly pricing model, or hybrid pricing model, whichever suits best for your budget and requirement. Of course, whichever model you select, the quality of the service will remain high.
Our App Development Process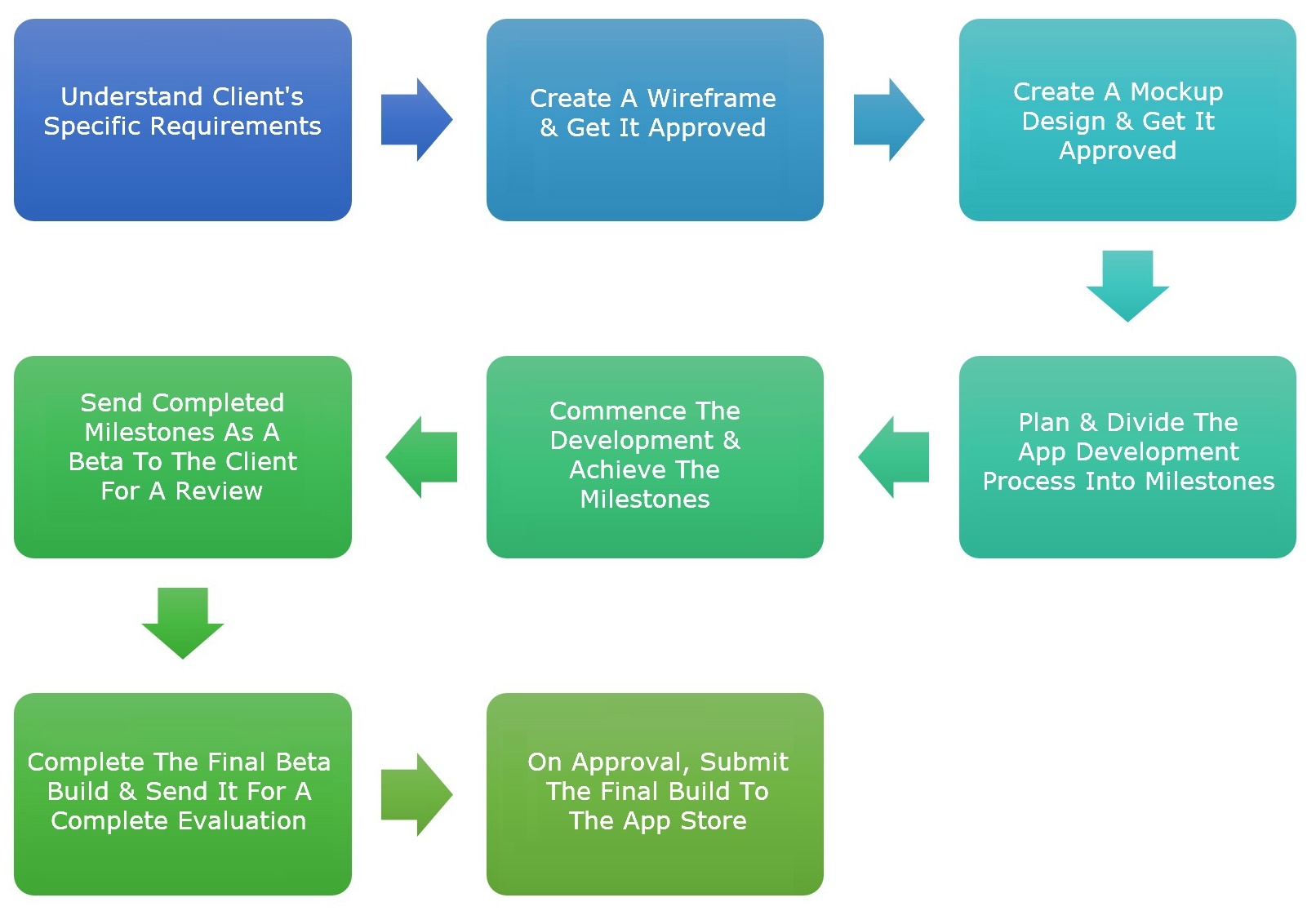 If you are looking for the best mobile app development company in India for affordable and prolific mHealth apps, count on us – Concept Infoway. Not only mHealth app development, but can get in touch with us for dating app development, educational app development, business app development, real estate app development, taxi booking app development, food app development, or any other type of custom app development. We have vast experience and expertise in Android application development, iPhone application development, Cross-Platform application development, as well as Wearable Device app development (Apple Watch app development & Android Wear app development). Thus, you can rely on us for innovative mHealth app solutions, for whichever platform you select.
Want to learn more about our mobile app development expertise?
If you're ready for mHealth app development and want to hire top mobile app developers from India at Concept Infoway, contact us at sales@conceptinfoway.com.
Recent News Post

Apple Watch App Development – The Big Challenge
It is not too long now for the launch of Apple Watch to the consumers--the release date is...
View More

5 Reasons for iPhone App Development for Business
Organizations, companies and businesses are always looking for superior market presence, along with effective business practices that can...
View More